I am so excited to be a part of another Perfect Pattern Parcel. It is such a thrill to work with such awesome Indie designers and help a great cause at the same time. For Perfect Pattern Parcel #5 I decided to sew up the Mimi by Filles a Maman. I have been eyeing this pattern for a while and jumped at the opportunity to use it.

This pattern is a dream to sew. It comes together very quickly and makes a huge impact. The instructions come in English and French so you can practice your French while sewing this one up.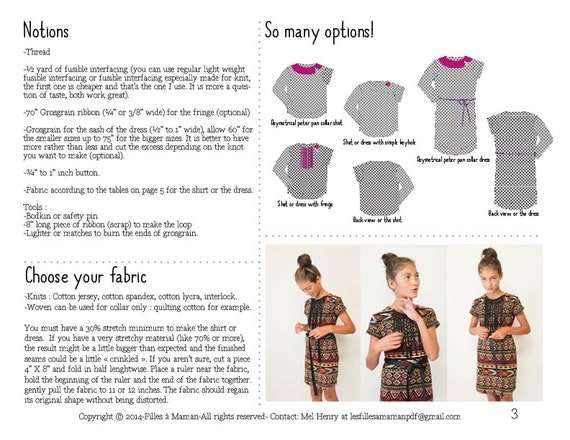 The Mimi has so many options including:
-Cap sleeve or long sleeve.
-Simple keyhole neckline, asymetrical peter pan colar or fringe.
-Shirt or dress length or even tunic!
-Sizes 12m-14y for a wide range of sizes.
I opted to make the long sleeve version for the upcoming winter. The keyhole neckline just makes me swoon.

For this version of the Mimi, I used an old sweater of mine. It worked perfectly to make this adorable tunic length shirt. I just chopped the shirt up and then placed my pattern pieces on the sweater. I did opt to do a straight hemline, just to preserve the bottom edge of the sweater.
Here is a little more information on Perfect Pattern Parcel. Make sure to check out all the other awesome bloggers below to see all the possibilities of these patterns.
Parcel #5: Girls and Tweens includes:
Lily Knit Blazer by Peek-a-Boo Patterns
Everyday Yoga Pant for Girls by Greenstyle
Asymmetrical Drape Top by EYMM
Playhouse Dress by Fishstick Designs
Mimi Dress and Shirt by Filles a Maman
BONUS PATTERN: Sunki Dress by Figgy's
Choose a price of $28 or greater for Parcel #5 and you will automatically also be sent the Bonus Pattern! The Bonus Pattern for this Parcel is the Sunki Dress by Figgy's. Fun pockets, a stylish silhouette, plus make it in knit or woven. Double bonus! The pattern includes both size runs, so you get 18 months through a 16 tween sizing. This is awesome sauce!
How Pattern Parcel Works:
Here at Perfect Pattern Parcel, we believe in supporting independent pattern designers. It's our opinion that indie patterns are just, well, better than big box patterns, and we're pretty sure our customers think so too. So, we allow customers to show their support in naming their own price for each Parcel.  We also encourage customers to allocate part of their Parcel price to the charity Donorschoose.org in order to help classrooms in need. Pattern Parcel donates all profits after expenses from Parcel sales to the charity as well. Together we've raised over $11,000 for classrooms in need.
TOUR SCHEDULE:
Parcel #5 Inspiration Tour Schedule:
Friday, September 19
Pienkel ||Cookin' and Craftin'
Saturday, September 20
Sew Busy Lizzy ||The Life Of A Compulsive Crafter
Sunday, September 21
Keep Calm and Carrion ||Felt With Love Designs
Monday, September 22
Radiant Home Studio ||Sewing Sober
Tuesday, September 23
Sew Fishsticks ||La Pantigana ||Amanda Rose
Wednesday,September 24
Shawnta Sews ||Sprouting JubeJube ||Knot Sew Normal
Thursday, September 25
Make It Perfect ||Mimi's Mom ||Climbing the Willow
Friday, September 26
Needle and Ted || Our Family Four
Saturday, September 27
Froo & Boo
Sunday, September 28
Stitches by Laura || Vicky Myers creations
Monday, September 29
Cookin' and Craftin' || The Crazy Tailor
Tuesday, September 30
mama says sew || FABulous Home Sewn ||The Inspired Wren
Wednesday, October 1
lady and the gents || That's-Sew-Kari || Sewing Sober
Thursday,October 2
Gracious Threads || Blogs Like A Mother || SewsNBows
Friday, October 3
sew chibi || Lulu & Celeste || Made by Sara